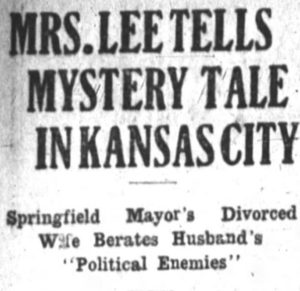 Not surprisingly, Kate did live through the night and soon recovered sufficiently to relocate to Kansas City. She stayed with her attorney and his family, and warned of plans to sue an unnamed Springfield physician and politician, both of whom she claimed had instigated a "plot" which "threatened to cause the political undoing" of Mayor Lee and which led to their divorce.
During an interview with a Kansas City reporter, Kate insisted the trouble began while Robert was in St. Louis and she was unconscious. She said her nurse was given "large sums of money for household expenses," but failed to take care of her while she was ill. She claimed to have been unconscious most of the time and did not recovery until her friends took her to the hospital. While she was unconscious, huge charges were accrued in Springfield stores, particularly at Heer's. In her words:
"On arousing from my partial stupor one day, I was amazed to find myself ablaze with diamonds. My fingers were covered with them and on the front of my gown was an immense sunburst. I could not think where they had come from and, calling my little daughter to my side, I asked her. 'Why, you bought them, mamma,' she told me. 'The jeweler brought them to your room and left them here.' I knew I had never seen them before and that it was a part of a plot against me and so told my daughter to take them back to the jeweler and get a receipt for them."

Despite her self-proclaimed innocence, she decided to not fight the divorce because she wanted to protect her husband from his political enemies. Apparently, she had ceased to care about his political career, as she was planning a lawsuit. She was, however, undecided when she would proceed with the suit since she was leaving the following week for Niagara Falls and was unsure when she would return.[1]
[1] Springfield Republican, July 2, 1911.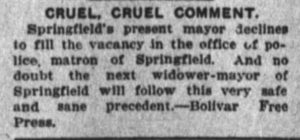 Later that month, the WCTU begged Mayor Lee to appoint a new police matron. He refused, saying he had "had enough trouble over the police matron matter." The group reminded him that they had previously recommended someone for the position and he had ignored their suggestion, instead appointing appointed Kate Cozzens. Lee ignored the jibe and simply stated that there was no money for another police matron."[2]
[2] Springfield Republican, July 12, 1911.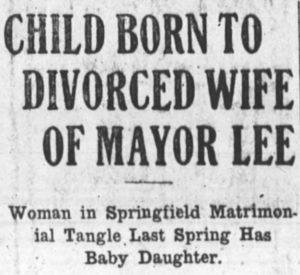 There was no additional news from the former Mrs. Lee until December, when she gave birth to a daughter in Kansas City. Local attorneys discussed the new development and agreed that the divorce settlement should have no bearing on the inheritance rights of the child, though it would legally be possible for the father to disinherit his daughter with Kate.
​Robert E. Lee retired from politics when his term expired in 1912. He continued working with his brother in the railroad tie business and eventually remarried. He died in 1935. In his will, he left $5 to Bobbie Lee Carter, his daughter with Kate. Apparently, Kate remarried, but her life after Springfield is largely unknown.[3]
[3] Springfield Republican, December 14, 1911.​