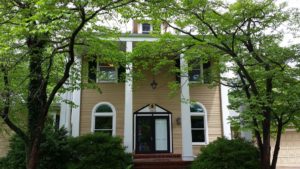 The Reed-Underwood house inhabits land that was originally part of Hawthorn Place subdivision, which was platted in 1903 by John R. Hegiman, president of the Metropolitan Life Insurance Company in New York. The first owner of the lot was J.W. Drumwright; by the end of that year it had been sold to H.F. Denton. In 1905, the lot was owned by W.H. Johnson, as were several other lots in Hawthorn Place. By 1907, Samuel A. Reed and his wife Susan, had acquired the lot along with two others. Construction likely began on the house in 1907 and was completed by 1909. The house sits on approximately 1/4 acre and according to a 1965 appraisal, contained a total of eight rooms, with four bedrooms, one bath, and three closets. The house contains only one fireplace. Out buildings included a barn and a tool shed. The two-story enclosed porch and the garage were later additions, as is the wood deck in back. The kitchen counters are made of beautiful Phenix marble. The house now boasts five bedrooms and four baths and still claims the same 1/4 acre plot.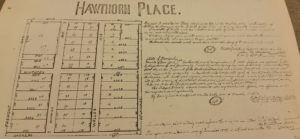 In 1914, a portion of Hawthorn Place was subdivided into Reed's Addition by Samuel A. and Susan Reed. Reed was a prominent member of the Springfield community and served as clerk of the circuit court for many years before becoming a District 1 judge. The Reed family lived in their new home for a few years before moving to another house just down the street. Susan Reed died in 1934 and Samuel in 1937.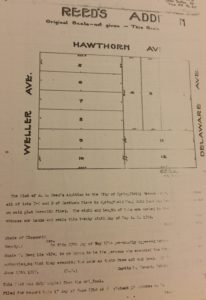 By 1920, the house was owned by Thomas F. Underwood, a mechanic for the Frisco railroad, and his wife, Jennie. When Thomas died in 1922, Jennie became sole owner. When Jennie died in 1927, the house was left jointly to their seven children. During the 1930s, the house was inhabited by Shane M. Wallace, the Underwood's son-in-law who was married to their daughter, Esther.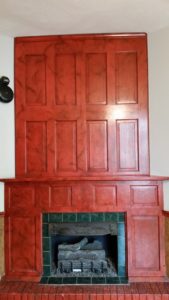 During the 1940s and 1950s, the house saw a succession of owners and even stood vacant for a couple of years. Thankfully, the home has been lovingly maintained throughout its 100+ year history.