This may be one of the oldest houses in Springfield. The real estate listing dates it from 1866, which I have not yet verified. In any case, it is certainly over 100 years old.
Michael Ford and his wife Catherine, both Irish immigrants, lived in the house by 1890. Ford was a grocer and had a store at 302 W. College near Patton Alley, although the location is, not surprisingly, now a parking lot.
In 1892, the Ford's youngest child, Mary Ellen "Ella," married Vincent Stillwagen, a local attorney. In less than a year, Ella was a widow; some two months later she gave birth to their daughter, Elizabeth.
Ambrose Hunter Wear, known as Hunter, married for the first time in 1879 to Mary Ona McConnell in Cassville. Cassville was their home for a number of years while Hunter served as prosecuting attorney for Barry County. The family was living in Springfield by 1896, when Mary Ona died, leaving him with the care of three children.
In 1900, Ella Ford Stillwagen married Hunter, likely at the house on Nichols. The blended Ford and Wear family lived together in the 5200 square foot house until Hunter died in November 1910. The Springfield Republican reported that the "Well Known Democratic Attorney Pass[ed] Away Surrounded by His Family." The funeral service was held in the family home.
The following October, Michael Ford died, leaving Ella without her father and husband. The Springfield New-Leader referred to him as "one of the pioneer citizens of Springfield." His wife Catherine died in 1917, leaving the large house to Ella and two of the Wear daughters, Olive and Madeline. Ella continued to live in the family home until her death in 1937.
The home must have seemed quiet without the Ford and Wear families. I imagine that it still misses them.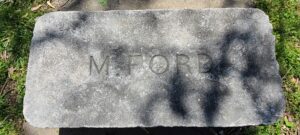 The interior of the house has undergone extensive renovations. More pictures are available here: https://www.zillow.com/homedetails/641-W-Nichols-St-Springfield-MO-65802/50253514_zpid/