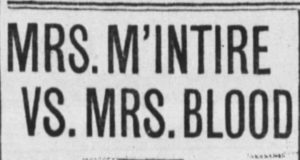 As part of the Women's Christian Temperance Union (WCTU) do-everything policy, it instituted a prison ministry in 1880.[1] This particular ministry does not appear to have arrived in Springfield until late 1900 when a local WCTU group advocated for the office of police matron. The role of police matron, as indicated by the WCTU, requited that the matron should visit the jail each morning to learn if there were any young boys, girls, or women who needed their assistance. She should attend police court with all female prisoners and be alert to any new young ladies arriving in Springfield and make sure they did not end up in houses of "ill fame." Local law enforcement was expected to aid her in this task. The police matron should be the only person permitted to search female prisoners, and it was her job to prevent "little girls" from being raised "to lives of shame" like their mothers and to remove them from the home if necessary. She should be sworn in just like any other police officer, wear a badge and, of course, be paid the same salary as her male counterparts. Kansas City, Ft. Smith, and St. Louis already had police matrons. It was time for Springfield to follow suit.[2]
During a meeting of the South Side WCTU, Mrs. McIntire, local jail and prison superintendent for the WCTU, spoke about the need for a police matron. She gave members a "glimpse of the important work to which she" felt called to do.[3]
The WCTU continued to push for the hiring of a police matron for Springfield. In mid-May, 1901, a "delegation of ladies of the WCTU" attended a city council meeting at which a bill was introduced by a Mr. Tompkins. The bill stated that a police matron would be appointed by the mayor for a term of two years with a salary of $45. With 11 votes required, the bill failed at 9 to 4.[4]
The bill met unexpected opposition from local women who believed the money paid to a police matron could be better spent elsewhere. The ladies of the World Faith Mission argued that the money would be more useful if spent on the "indigent and unfortunate" before they ended up in jail. Mrs. Alice M. Blood, well-known in Greene County for helping children and young women, arranged to have rooms in the Mission available to house rescued girls. She then offered "to donate her time and services to this work of love without pay," only asking for donation to aid her service. Blood proposed that she continue her relief work and take on the role of police matron.[5]
Mrs. Susan F. McIntire responded with surprise, suggesting that Mrs. Blood did not understand that the role of "rescue worker and police matron" where quite different. McIntire agreed that it was desirable to keep women and children out of jail, "but the fact remains…they are sent there" nonetheless. Therefore, it was the police matrons job to better the condition of prisoners by
"having fines remitted, bonds reduced, getting changes of clothing for prisoners, furnishing them with pens, ink and paper, slates and pencils, quilt pieces, crochet needles and thread, to while away the tedious hours of prison life; also to secure transportation for the discharged prisoners, or those who are given a few hours to leave the city, get homes for aged and infirm women and unfortunate girls, and send them to other cities that have homes…[such] as the White Cross home and Salvation Army home of St. Louis…"
According to McIntire, both positions were supported financially by the WCTU and had worked well together for many years. The position of police matron was supported by judges and the prosecuting attorney. The primary issue was money. And both women wanted the job.[6]
Stay tuned…
[1] The WCTU was organized in 1874 and started as an anti-liquor organization run entirely by women. By 1880, the focus expanded to include prison reform, health care, and women's suffrage, and many others.
[2] Springfield Republican, October 24, 1900.
[3 Springfield Republican, January 20, 1901; March 17, 1901.
[4] Springfield Republican, March 13, 1901.
[5] Springfield Republican, March 16, 1901.
[6] Springfield Republican, March 17,1901.