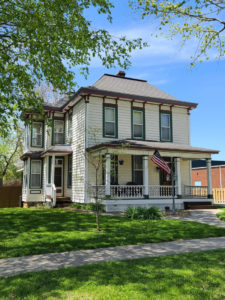 Springfield News-Leader, 1894: "Harry Garlick has purchased a fine residence on Washington Avenue and will occupy it in the near future."
The beautiful house at 1451 N. Washington was quite new when the Garlick's bought it 1894, but it was already inhabited. Harry Garlick, an insurance salesman, bought the already built home in March, but Reverend Joseph C. Plumb and his wife, Elizabeth, were already living in the house. (You may remember the Plumb's from my book about Emma Molloy. Reverend Plumb was one of her main supporters and Emma stayed with him and his wife briefly when she first moved to Springfield.)
By October 1895, the Plumb's had moved to Kansas and the Garlick's finally moved into their new home. They lived there until 1901 when they sold it to Austin Blodgett, a tie and timber inspector for the Frisco railroad. By 1913, the Blodgett's had moved to Alabama and the house once again had new owners. Walter W. Constance, a foreman at the southside Frisco shops, and his wife Viola moved in. Walter was also an award-winning coach for a Frisco baseball team. Their daughter, Rae Josephine, married Fred Hays in the home in September 1920. The lovely scene is described below:

"The house was lavishly decorated with potted plants and masses of goldenrod and other flowers, while an altar was improvised on the same…Miss Helen Moore…played the wedding march as the bride entered on the arm of her father…She wore a Frenchy gown of rose-taupe de chine and carried a bouquet of bride roses. She was attended by her sister, Miss Grace Constance, who wore a dainty frock of white organdy…Following congratulations, a wedding breakfast was served in the dining room, covers being laid for twenty. Mr. and Mrs. Hays are spending their honeymoon at Lake Taneycomo. Later they will go to St. Louis, where Mr. Hays will resume his studies at Washington University."
(As a side note, Grace Constance later worked as a bacteriologist in Mexico. She married Clyde Hyslop in Greene County in 1923.)
By 1925, ownership passed to Charles F. LaBounty and his wife Emma. Charles worked as a machinist at the north side Frisco shops. They lived there for many years, until 1947, when Charles died. The house then went to Warren R. Hoffman and by 1959, to Albert E. Moorman.
Albert Moorman and his wife Evelyn lived in the house until they moved to Canada in 1968. Albert had been a biology professor at Drury since 1947, but the couples unhappiness with the Vietnam War led them to move to Canada where Albert accepted a position at a university.
For more pictures of this lovely home in Springfield's historic Midtown Neighborhood, click here.
Sources:
Newspapers.com
Springfield News Leader
Springfield Democrat
Springfield Leader and Press
Springfield Republican
Springfield Daily Republican
Springfield Daily News
Greene County, Missouri, Tax Books, 1895-1898
Springfield City Directories
Find A Grave
Greene County, Missouri, Recorder of Deeds, Marriage Records
Missouri Digital Heritage, Death Certificates, 1910-1969
Missouri Department of Natural Resources: Greene County National Register Listings, Mid-Town Historic District