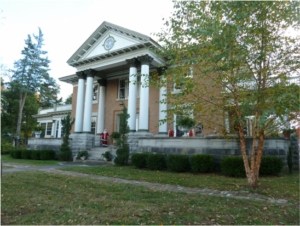 On November 22, 1903, the Springfield Republican announced the imminent construction of "a very fine residence" for Paul Nicholas. The builder was A.R. Bowman who projected a cost of $16,000 to complete the beautiful home that would be known as Humboldt Place. Work was completed in 1904.
Paul Nicholas was born in England on Christmas day, 1855. He arrived in the US in 1877 and was naturalized in 1890 while living in Graham County, Arizona. In 1893, he married Roselle Tierney in Morenci, Arizona. Nicholas was almost 38 years old and Roselle was 18.
Though Nicholas was the "superintendent of mines" at the Arizona Copper Company, a trip through Springfield in 1902 led him to buy land west of town and to be a farmer in addition to his work as an engineer. Today, his 176-acre farm is no more, but the house still sits peacefully in a park-like setting on the remaining seven acres.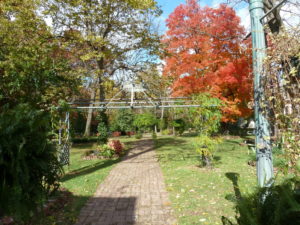 In the late 1890s, while working for the copper company, Nicholas began to "prospect near Humboldt hill," which was located near the town of Morenci. It is from this mining operation that Nicholas found the name for his new home in Springfield. Initially, the copper vein in Humboldt turned out to be "small and the ore poor in grade." However, the mine eventually made a fortune for the Arizona Copper Company and likely for Nicholas as well.
Even while living in Springfield, Nicholas continued his work in Arizona, where he went on occasional visits to "look after his copper interests." Nicholas and his wife were also busy in the local social scene; in 1908, Nicholas was listed as an "old member" of the Springfield Club, a social organization formed in 1901.
In addition to their frequent activities at the Springfield Club, Paul and Roselle participated in numerous other social events with Springfield's leading citizens. In April 1909, they attended a party at the home of the Frank Fellows family on East Walnut. The guest list also included F.X. Heer (Heer's Department Store), H.B. McDaniel (McDaniel Bank), Holland Keet (Holland Bank), J.T. Woodruff (Woodruff Building), and Miss Annie Abbot. ​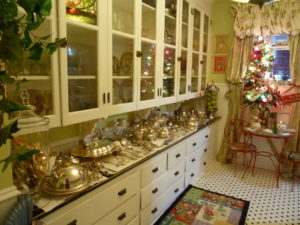 The couple were members of the Country Club and they also attended numerous events at the Colonial Hotel. Paul Nicholas just happened to be on the board of directors of the Colonial Hotel Building Company. This social whirl appears to have been the norm for the Nicholas family throughout their lives.
In the autumn of 1911, Paul and Roselle took their daughter Murillo to Boston where she planned to attend Chevy Chase College and Seminary. The school opened in 1903 and was known at the time primarily as a finishing school. I don't know if Murillo graduated, but two years later she was back in Springfield attending a bridal shower given for her (and two other young ladies) at the Colonial Hotel. Later that week, the three young women were entertained again at the home of Mrs. Holland Keet.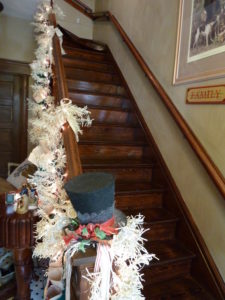 On October 5, 1915, Murillo Nicholas married prominent Springfield banker James Claud McDaniel in her parents "spacious suburban home…west of the city. The wedding was a quiet home affair, but beautiful in its simplicity. The drawing room was beautifully decorated in palms, ferns and baskets of Southern smilax, with large baskets of pink roses."
The wedding march began at 3:30 and the bridal procession descended the stairs (pictured above). Then the bride appeared, with her father, looking "exquisitely dainty in her gown of white satin, made short and draped with tulle, over which the court train of white, embroidered in silver and seed-pearls, hung in graceful folds. She wore a tulle veil with clusters of orange blossoms encircling the head. Her bouquet was of white orchids and lilies of the valley."
The wedding cake was "made in the form of a ring" and was a "marvel of the confectioner's art, with a monogram of the bride and groom upon it in icing. Its center was filled in with white roses and lilies of the valley, out of which a dainty miniature bride emerged."
The wedding was attended by about 150 guests and was likely one of the main social events of the season.
Nicholas is said to have loved plants and added a small greenhouse (pictured above) to the east side of the house.
Paul Nicholas died in 1936 of pneumonia. He was 80 years old. Roselle continued to live in the family home until around 1944, when she sold Humboldt Place and moved to a home on S. Weller. She died of pancreatic cancer in 1954 at the age of 81.
Humboldt Place is a two story brick structure and was built in the Neoclassical Style with a main central block and two wings. The front gable is supported by six Corinthian columns. The gable is decorated with a round, stained glass window. This is an uncommon house style for the Springfield area and we are fortunate that this beautiful house is still extant.
Sources:
Ancestry.com. Census Records and Springfield City Directories.
Colquhoun, James. The History of the Clifton–Morenci Mining District. London: William Clowes and Sons, 1924.
Missouri Digital Heritage. "Missouri Death Records, 1910-1964."
Patton, James Monroe. "The History of Clinton." M.A., 1945.
Springfield Republican.
Taylor, Mabel Carver. "Cavalcade of Homes, Part 15." Springfield Magazine.
Photos courtesy of Alyson Yen. Used with permission.