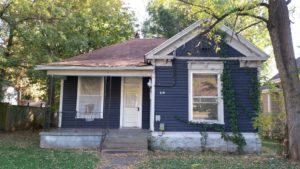 This sad little house was auctioned recently and its fate is as yet undetermined. It has some interesting features, but is in need of considerable work, both inside and out.
The house is located in M.K. Smith's 4th addition which was platted in Springfield in March 1884. Smith was a well-known local businessman and was the owner of Springfield Woolen Mill.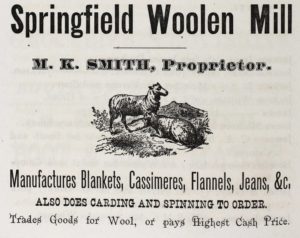 The house was built at least by 1890 at which time it was inhabited by Thomas B. Lewis and his wife, Sarah. Lewis was a self-employed carpenter, though he later worked for Queen City Wood Works.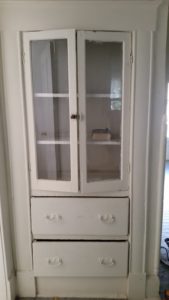 Lewis lived here until 1918 when ownership passed to J.E. White, who also owned the lot next door. James E. White, along with his partner, Loran C. Sechler, operated a grocery store located at 312 W. Commercial. In 1920, White sold the house to John W. Welch and his wife, Flora.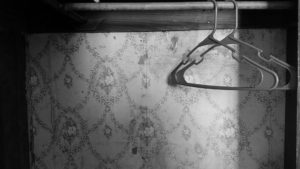 John Welch was a chairman with the General Council of the Assemblies of God, which is headquartered in Springfield. By 1925, Welch was the manager of the Gospel Publishing House and by 1936 he was president of Central Bible Institute, now part of Evangel University.
Welch owned the home only a short time before selling it to John C. Cramer and his wife, Ethel. Cramer, along with his partner, G. F. Smith, owned a lunch counter located at 444 E. Commercial. By 1927, Cramer had sold the house to grocer Fred Elliott and his wife, Bertha.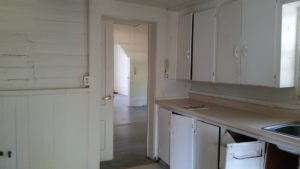 Fred Elliott owned a grocery store at 884 N. Campbell for several years, before taking a job as driver for the Springfield Special Road District in 1932. He was employed at several jobs over the next twenty years, including a position as a watchman at Oberman Manufacturing Company (Oberman's was a local garment factory.) and later as a custodian at Campbell's 66 Express. Ethel also worked at Oberman's for a few years as a machine operator. The Elliott family lived in the house until at least 1959.
The five-room house has approximately 900-square-feet with two bedrooms and one bath. The house has pine flooring and has a 10 x 12 concrete basement. There was once a one-car garage in back but it is no longer extant.
After the Elliott's moved, the house had several other owners prior to its recent auction. It appears to have been vacant for some time.
**Update: I wrote this post in late 2015. The house has since been demolished.