Addie Dillard was born in Greene County in 1868, and was the youngest daughter of Robert D., a farmer, and Margaret E. Dillard, residents of Washington Township. She died on Wednesday, July 7, 1886, under "suspicious" circumstances at the home of the Nelsons, which was known as a "house of ill repute."[1]
On July 9, the Springfield Leader and Press ran an editorial stating that due to the "very peculiar and suspicious circumstances" and the possibility of "foul play," an autopsy should be ordered.[2] But it was too late. When Addie's father asked county coroner, Zachariah Vanhoose, to conduct an autopsy, his request was denied. An inquest had already been held on the day of her death, at which time Vanhoose and the jurors "viewed the body, heard the statements of witnesses…and having done all that [they could] reasonably do to learn of the matter, therefore conclude[d]…that death was caused by some sudden failure of the action of the heart. As to the true nature of said heart disease…, we know not, neither do we know anything relating to complications that may have helped the matter on."[3] As far as Vanhoose was concerned, that was the end of the matter.
[1] Springfield Leader and Press, July 9, 1886.
[2] Ibid.
[3] Coroner's report, July 7, 1886.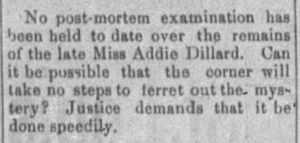 Though a July 10 editorial in the Leader and Press stated that Addie was pregnant, there was no mention of this in the coroner's report. The editorial accused a Springfield man of having "criminal knowledge of her death" and that should have been "sufficient to cause an investigation." Local authorities apparently did not agree.[4]

The final public mention of the case was on July 11, when another editorial pointed out that nothing had yet been done about Addie's death. The Leader and Press reported that a local physician had visited Addie two weeks prior to her death. After visiting with her briefly, the physician "refused to have anything to do with the case." A certain young man was also said to have visited her, but was then "reported to have skipped".
If newspaper reports are accurate, it appears that Addie became pregnant by a "young scoundrel" and subsequently felt she had to leave home because of it. But how did she end up at the home of the Nelson's, and why did the doctor refuse to help her? We will likely never know the whole of Addie's story. Her life, and death, remain a mystery.[5]
[4] Springfield Leader and Press, July 10, 1886.
[5] Springfield Leader and Press, July 11, 1886.