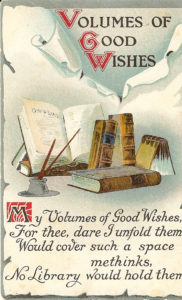 Postmarked Koshkonong, January 7, 1911 and addressed to Miss May Barnett in West Plains, Missouri:
​
Will write you a few lines. I got home all o.k. The roads wasn't very muddy, just dusty of course. I didn't have anybody along to push me in the mud. Hope all you young folks will have a nice time and all, not forget me. But all not forget to attend church. May, tell Maud be very careful and not run another fellow off. I wish this card was longer so I could write more. Hope to hear from you soon. May, be sure and use my initials only for safe delivery. From Joe
May Barnett was born in Peace Valley, Sisson Township, Howell County, Missouri. She was 18-years-old at the time of the 1900 census, and lived with her parents and siblings. She was still living in Howell County with her parents in 1940.